---
Exocet RS Carbon Pro
RS Carbon Pro 2015
These are the fastest boards on the market.
Used by Patrice (the old Guru) to beat everyone at the Le Defi.
RRP for the RS Boards is $3,300.00! RS Speed is $3,200.00 and the RS7 $3,400.00 -
Secure yours now at our fantastic price!
In Stock: the 2016 RS5.5 and RS6.5!
The new RS 2, 3 & 4 have a new shape featuring a straighter outline between the front and back footstraps and a narrower tail to improve top speed. RS 6 has had some major improvement with a reworked rocker line and VE which releases the board and gives it better acceleration and top speed. Over the whole board range Exocet has also increased the amount of vee beneath the mast foot to provide maximum release in gusty winds. The increased vee also offers good upwind abilities in all conditions. With it's carbon construction, the RS combines strength & stiffness with super light weight, helping to ensure that this board is a racing beast that will bring you to maximum velocity in an instant.
2014 Exocet RS2:
Firstly I need to say this review is not solicited, I love windsurfing and GPS/ slalom sailing and provide my comments for others who are looking in the market for a board and are considering the Exocet RS range. I am sure there are other brands that are fantastic as well but this review is about my first ride experience on the new RS2 from Exocet.
Rider: Russell Dowd
Weight: 95kg
Height: 6'3"
First sail: Sunday 14 July 2013
Target one hour: Result 21.78 knots 42 gybes made 40
Construction: Full Carbon weight 5.6KG (light) 235 long, vee tail to reduce area and no tail cut-outs.
Colour: jet black; the board looks stunning very black tie, so I will need to be mindful about leaving it in the sun.
Location :
Marion Bay Tasmania (East Coast) Magic place no wind in town (Hobart) but very windy 45 minutes away on this beautiful bay.
Conditions very powered up 6.3m sail 25 to 35 knots also with some light patches in it, but generally blasting all the time. Essentially the perfect testing ground for the Exocet RS2 .
Let face it, the first sail on a new board you tend to hold back a fair bit feeling for the unfamiliar and working out what adjustments to your sailing style will be required in order to feel at home on the new board. Today I had no time for that; I was on a one hour mission for the Tassie Speed Seekers. I had to go with how I set up the board out of the box. Mast track was a tad forward of centre and foot straps back as far as they will go. Fin I used my trusty Rocket 32 G10
On The Water :
The new foot straps are softer and feel more comfortable as you take off they just feel better than the older ones so well done for working on this Exocet. The board has more volume in the tail than my old board so it is on the plane quicker and with a feeling of strong acceleration into top gear. The shape of the rails is very natural and comfortable for the feet my one hour was about one hour fifteen minutes of nonstop sailing and I can honestly say in the very loaded up conditions the board sat on the water steady as a rock and I was not tired in the end it was simply a comfortable fun sail. The feeling of the board is comfort at speed I never felt like the board wanted to buck me off even in the extreme gusts the Exocet RS2 just held its line and allowed me to stay in a comfort zone. The board is full carbon and in heavy chop it feels very comfortable under foot because the vee forward just slices it up and takes the energy out of it along with those pads which are fantastic.
Upwind :
The Exocet RS2 key strength is it upwind ability; honestly it just rockets up wind without heaps of rider effort and holds an upwind line at speed. For a slalom board this is a fantastic asset as you are not wasting energy hunting the board upwind trying to hold your line. I was able to try speed runs then recover my position at the end of the run very easy.
Off the wind :
I never had a real chance to run to deep today unfortunately as I was focused on my one hour and then ran out of time. But the few run?s I did the RS2 felt predictable over the chop like the RS Speed it does not suck down and the boards feels very willing and free to run. I will need to play with my settings a bit to feel 100% committed off the wind but early indications are very positive. Today's peak speed 33.34 Knots
Gybes :
This was very different to my old Naish sp ltd board the Exocet RS2 is more compact there is more volume in the tail area this provides heaps more support in gybes the forward rails bite and hold the board on a track making commitment to gybes easier and the success rate much higher out of 42 gybes in the one hour I made 40; not all perfect but in the end the tail volume provides so much support it helps recover many mistakes. I was going into gybes so loaded in the high winds; I thought the board would spinout and catch a rail. But the more I sailed the better I got at committing with confidence and laying down the sail to dump power. All in all it rewards confident sailors and I am looking forward to improving my gybe style with this board.
Conclusion :
This is a real step forward board for me it has a fantastic rocker line and the vee up front somehow in combination with the higher volume tail helps the board drive up wind very fast and easy to place you in a position where you have options on the slalom course.
The board gybes well and with more commitment rewards the sailor who drives the rail.
RS2 is very fast on the reach holds it's line and feels very comfortable underfoot.
My first session on the water I used a Deb SL3 32cm and Loft Racing Blade 6.3, the instant I stepped onto the RS2 I felt right home, it planes very easily(I weigh 98kg) and feels real free on the water, there's no real sensation of speed because of the great comfort and control it offers I was very surprised to have 35+knts on the dial after a couple of runs through the chop, the best speed after 4 sessions now is 36.4knts done in approx 20knts of wind.
The board will take sails from 5.2m-7.0m, there's no info on fin sizes on their site but at this stage I have only used the SL3 32cm.
All in all stoked with the board and have ordered a 122litre RS5 as well, like every brand available they are all good but some may suit certain rider styles better than others, if your after a fast easy to ride slalom board give Remi a call and see if you can demo one, the colour has grown on me now and the pink looks nice on the water
FEATURES
DDSA: Double Density Shock Absorber
Carbon Construction:

light and stiff for earlier planning and acceleration.
Unfinished paint: no extra weight.
SPECIFICATIONS
Model
RS SPEED
RS 2
RS 3
RS 4
Volume
65 litres
90 litres
100 litres
111 litres
Length
230 cm
235 cm
235 cm
235 cm
Width
50 cm
59 cm
64 cm
68 cm
Weight
4.7 kg (+/-6%)
5.7 kg (+/-6%)
6.0 kg (+/-6%)
6.5 kg (+/-6%)
Fin
Tuttle box
Tuttle box
Tuttle box
Tuttle box
Recommended Fin Size
31 – 33 cm
34 – 36 cm
37 – 40 cm
Sail size
4.2 – 5.7 m2
5.2 – 7.0 m2
5.7 – 7.8 m2
6.3 – 8.4 m2
Model
RS 5.5
RS 6.5
RS 7
RS 8
Volume
126 litres
138 litres
149 litres
216 litres
Length
233 cm
233 cm
232 cm
260 cm
Width
79 cm
85 cm
90 cm
90 cm
Weight
TBC
TBC
7.8 kg (+/-6%)
TBC
Fin
Deep Tuttle box
Deep Tuttle box
Deep Tuttle box
Deep Tuttle box
Sail size
7.0 – 9.0 m2
7.8 – 10.0 m2
7.8 – 11.0 m2
7.8 – 10.0 m2
Model RS5 RS6
Volume 122 litres 134 litres
Length 230cm 230cm
Width 76cm 82cm
Weight 6.5kg (+-6%) 7.1kg (+-6%)
Fin Deep Tuttle Deep Tuttle
Sail Size 7.0-9.0 m2 7.8-10.0 m2
RS 2 (Above)
RS6.5 (above)
RS 2 (Above)
RS 7 (Above)
RS 7 (Above)
Dave Law took the RS 4 to the AWA 2013/2014 Series and gained 3rd place!!!
We are really happy to say that Angus Butterfield is the Silver Fleet winner of the 2015 New Zealand slalom nationals. Thanks to everyone involved for a great event, we're looking forward seeing Angus take on Gold Fleet next year. he competed using the exocet rs2 and rs4 with a range of point 7 ACX sails.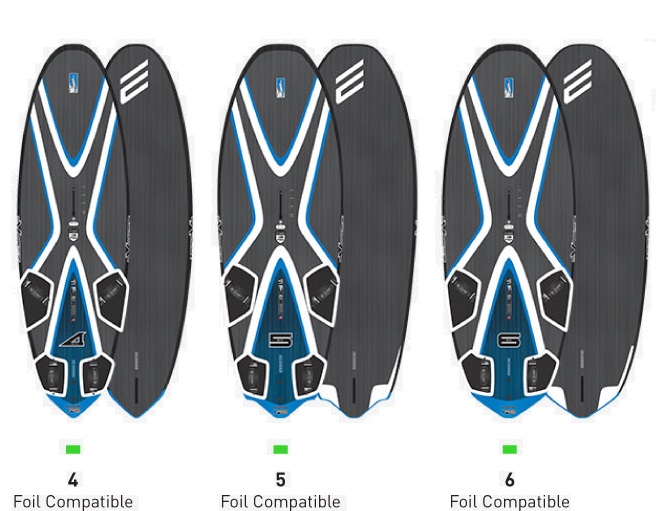 Out now: The new RS-Slalom range for 2018!!!
The new RS4, RS5 and RS6 2018 are build to be compatible with hydrofoils, so you can take slalom sailing in light winds to another level. The RS comes in a lightweight carbon sandwich construction, which further improves early planning and enhances the liveliness of the board. The double density shock absorbers (DDSA) underneath the feet improve the comfort of the ride especially in choppy conditions and the board will last longer.
| | | | |
| --- | --- | --- | --- |
| | RS 4 | RS 5 | RS 6 |
| Volume [l] | 111 | 122 | 140 |
| Length [cm] | 235 | 230 | 235 |
| Width [cm] | 69 | 76 | 82 |
| Weight [kg, +/- 6%] | 6.3 | 6.9 | 8.0 |
| Fin Box | Tuttle | Deep Tuttle | Deep Tuttle |
| Rec. Fin Size [cm] | 37 - 40 | TBC | 46 - 48 |
| Rec. Sail | 5.8 - 9.0 | 7.0 - 10.0 | 7.0 - 10.0 |
Item Reviews
Alan
Exocet RS7. Fantastic light air board. I have used this board in conditions from 8 to 20 knots of wind with a variety of sail sizes from 9.0 to 6.6 sq meters. All combinations worked. The board is extremely fast, planes early, easy to gybe, great upwind performance and easy to reach and sail deep downwind also very maneuverable for its 90cm width. I have been using a Select 53 cm S12 Race Fin which is a great match with all the sail combinations I used. Great fun, fast light air board that gets you on the water when you would otherwise not consider going out.
Angus
2015 RS6 I recently had the opportunity to test NZ Sailing's demo RS6 which is 134l, 82cm wide with a length of 230cm. Most importantly the fin I used was Select V-Max 4.0 45cm matched with the Point-7 7.9 AC-1. Heading out of manly bay with Tim Wood (manta 80 and vapour 8.6) in a 18knot NE I really through I would have my hands full... For almost two years now I have been on the RS4 and I am beginning to feel dialled in, so transferring over to the light wind version was no trouble at all. Like all Exocet boards the RS6 is a very plug and play use friendly design which is not just tailored to PWA sailers but to the intermediate to advance windsurfer which is where most abilities are. The overall stance is very natural combined with thick foam pads and soft foot straps the board really inspired confidence to keep pushing harder and harder. The RS6 loves to fly off the fin and there seams to be heaps of tuneibility in the mast track to get that sweet spot. Upwind is good but downwind the board is very fast and predictable which is helped by the v-max fin. Jibing is easy its just a bigger step across but if you can tuck the sail back and be aggressive with the foot pressure you can achieve really tight arcs with heaps of speed on the exit. My experience with the RS6 have changed the way I think of light wind slalom boards, they offer huge comfort and control which results in a confidence inspiring package for most ability. It offers windsurfers a entire new range of sailing but still has the ability to handle the rough stuff. The RS6 is the go to board for Auckland slalom and I can't wait to get it flying in 12knots with an 8.6.
chris O'Connor
here is my review of the rs2 chris@surfa.co.nz I have used the RS2 (90L, 235c, 59cm) in Auckland many times over the past 18 months with 5.8 and 6.6m sails, 30, 32 and 34cm venom fins. I very much enjoy sailing this board. It's super comfy to sail fast and it's got great range for a small board. In marginal winds I will usually try it before using my bigger board as it's easier on the body and allows me to sail longer. And for the price I paid this board has been outstanding value. I will strongly consider replacing my bigger board with the RS4 at some stage.
Ray Smith
Having tried this board now 3 times with a 6.7m and 7.2m sail size, I am really impressed with its speed and control particularly across and deep down wind in rough water conditions. The board is really light weight and relatively narrow. Along with the adequate volume in the tail, I believe this allows for early planing, support through the gybes and a superb upwind angle if its required. Am looking forward to using it on the next rough windy day.